Our facilities
Our Space
Our Space is located at 2 St Johns Avenue, New Town. It's on the corner of New Town Road and St Johns Avenue, between the Ogilvie Campus of the Hobart City High School and the Southern Tasmanian Netball Centre. The building is a convict-era Guardhouse (built around 1830) of the former St Johns Park orphanage and Government Farm.
Rooms in this old building are large enough to allow groups of people to work together, but small enough to allow separation of different activities without too much mutual interference.
Members can use the space at any time (24hr access), but we ask you to respect the vintage of the building and its inherent fragility in some aspects. Note, too, that our lease requires "that no intoxicating liquor is brought on to or consumed on the Premises".
Our tools and equipment
We have some cool gear 😎.
For making, we have: several 3D printers, two CNC machines, a laser cutter/engraver, plasma cutting & welding gear and all the usual smaller tools.
For electronics we have an electronics workbench plus test & rework equipment.
And of course lots of tables set up for your computers (or use the ones that we have).
We even have our own Amateur Radio station!
Resource Calendar
You can check to see whether particular rooms or resources are booked by clicking here
If you wish to book a resource, contact a Committee member or send the Committee a note via the Contact page.
Floor plan and room names
Who needs boring utiitarian rooms names? Our spaces are named after inspiring people.
This is a plan of our rooms. To find out what's what, check the interpretation guide below it.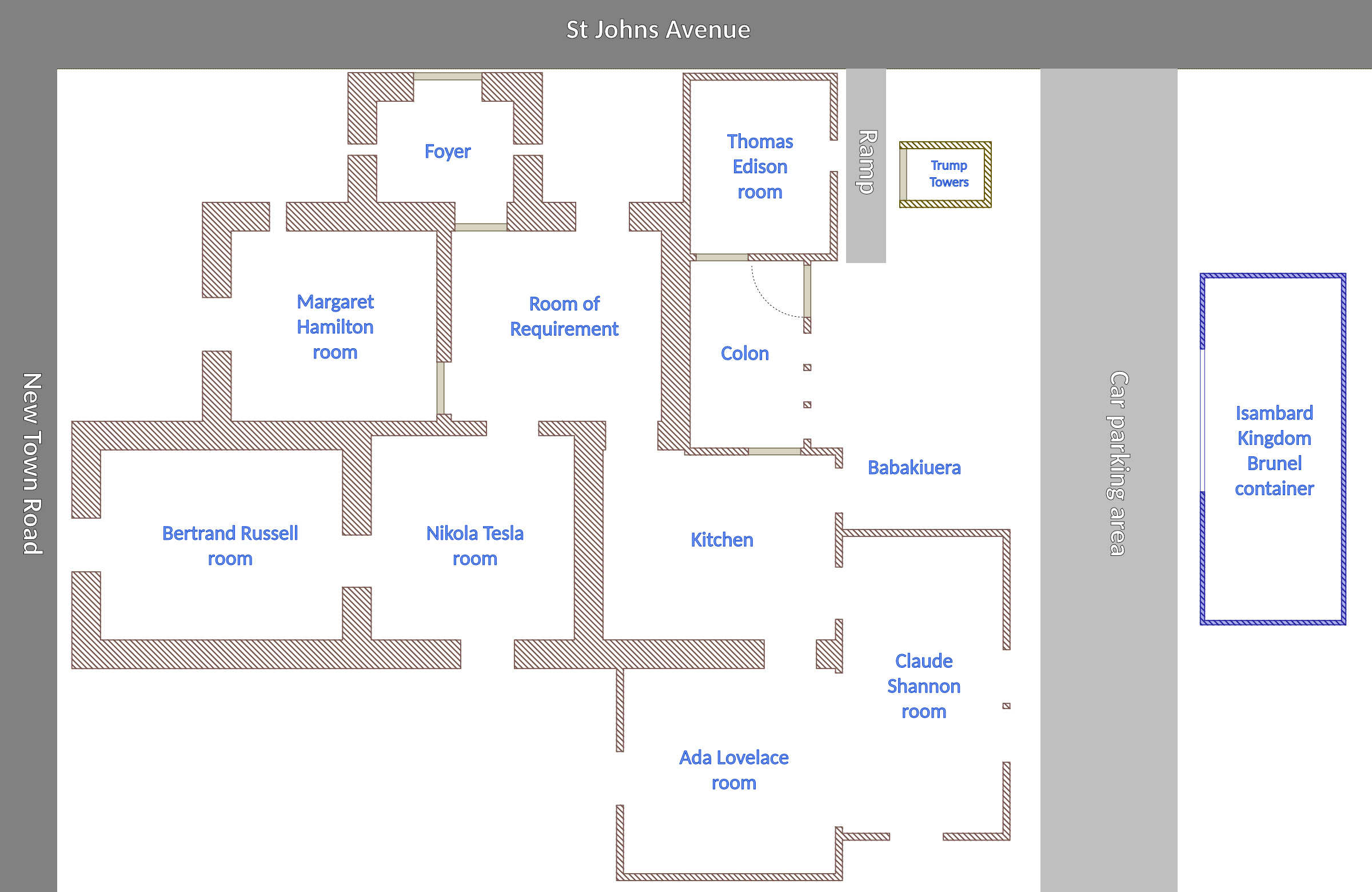 The rooms: